Brush your teeth like a champ. That is our topic today. Dental hygiene is so important these days, especially since we are at home all day. There is no excuse now to take care of our teeth. We can start by improving our brushing technique. Brushing is an important part of dental care because is the fundamental for a perfect smile.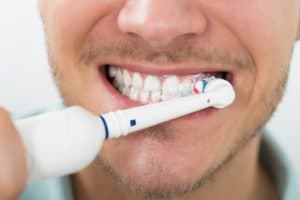 Before brushing your teeth you need the perfect toothbrush. You have to choose a soft bristle one. Medium and hard bristles are bad for your enamel and gums. It will wear down those two important parts of your mouth. Pick a comfortable handle and if it has a tongue cleaner you are all set.
Brush your teeth correctly
Use soft and gentle strokes to brush your teeth up and down. It will be better if you use vibrating motions to scrub the tartar and plaque off your teeth. Then brush away, do not forget the soft tissue like gums, cheeks and tongue. After brushing your teeth you need to use dental floss and mouthwash to get every corner of your mouth clean.
To brush your teeth easier, get an electric toothbrush. They are handy and comfortable to use. If you are lazy like me, it can be a life saver when running late to work or if you are traveling. I always recommend getting an electric toothbrush for maximum comfort.
After brushing
If you are done with your teeth and want to take your dental hygiene to the next level then you need a dentist. Schedule an appointment 2 times a year for cleaning. This can serve as a checkup too to maintain a good oral care.
And if you wish to find the best affordable dentists in Mexico, use our contact form to receive a FREE quote on you email!