All you need to know about braces
Hellos guys, let's continue talking about dental treatment here. Today is braces' turn, one of the most requested treatments at our clinic. It is a treatment that can cost a couple of thousands of dollars in the United State. So it is not a surprise that patients want to come to Los Algodones to get their teeth fixed. Let's review the procedure so we can learn more about it and what to expect. This should answer most frequently asked question about orthodontics.
If you have any suggestion for a topic you would like us to discuss here, leave a comment! We love to read your suggestions and commentary. It is so refreshing to interact with our community besides helping you guys find affordable dental care in Mexico. In case you did not know we help patients all around the world to find the best dental clinic in Los Algodones. You will save money and time. The best part is that our services are FREE.
Find the best prices for braces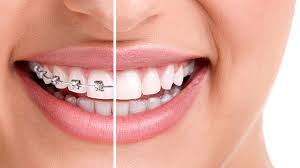 To find the best deals for braces and get more bang for your buck keep reading. You want to use our contact form to make an appointment. But that is not all, you can get estimate for any dental treatment in Los Algodones. The process is pretty simple, really. Use the contact form above to receive an email within 2 hours. After that you can coordinate with us to schedule the appointment.
Another way is to use the live chat or call us at the number above. Remember to use them at business hours so we can respond back quickly. Ask us any question and doubts you have regarding the process so we can help you. You will have the best dentist in town at your services with the best prices. we only work with ADA approved clinic to offer safety and quality to our costumer. Schedule your appointment now!
What you need to know about orthodontics
Now with today's topic, let's see how the process goes. Orthodontics serves the purpose to straighten the patient's teeth. Chances are that most people will need orthodontics at some point in their life. It can be just bad luck and genetics that your teeth crowd together. The most common reason is because of the wisdom teeth. When they grow in our teenage years, the impact other teeth and make them crowd together.
That is why some adults get their teeth ruined so late. I have seen patients in their 30s that do not have space for the wisdom teeth to grow and. The best way to know if you have to extract them is to get panoramic x rays. That way the dentist knows if you need extractions before the disaster happens. In some cases it can begin very early at teenage years, in this case the braces have to be installed earlier.
That would be the best case scenario because it makes it easier. Usually brackets need to be used for 2 year at least, with adjustments every 2 months. The orthodontist will tighten the brackets so teeth are correctly aligned. This can feel uncomfortable at first, but after some time you wil get used to it.
Taking care of dental hygiene while using brackets
One important part you cannot skip is your dental hygiene. Some patients can find it difficult or frustrating because of the orthodontics. What you need to know is that you have to keep up with cleaning your teeth while using brackets. Your teeth will decay if you do not brush them daily. That is why I am going to share some tips so this becomes way easier for you.
To brush your teeth easier use an interdental brush. This tiny brush is perfect to clean your teeth and braces alike. It can reach all places, even difficult ones. Get rid of the food debris that gets stuck between your teeth thank to this little fellow. It is a dental item that cannot be missing from your bathroom. On the other hand, using dental floss and mouthwash also helps to maintain your teeth clean and healthy.
You have to beware when eating because it can make your life hell. Many foods can get stuck in your brackets and it is difficult to remove. Chewy stuff specially is really bad for you. Try to avoid them if you do not want to spend hours getting it off. Also you want to avoid hard food that can break the wires of your braces. You do not want to spend your hard earned money getting braces agiain.
After using braces
Life is not over when you finish the braces treatment. You are halfway of the journey but did the hardest part first. Your teeth should look straight and beautiful by now bot it is not over. You need to use retainers for a while to keep your teeth in place. If you skip this phase, your teeth will move to their previous position. What this means is that they get crooked again, so wear your retainer at all times!
Cleaning your retainers is also part of the job. Keeping it neat and clean will help you stay healthy and avoid diseases. There is nothing worse than a dirty retainer, trust me, you do not want it. Many patients comes with halitosis, gingivitis and caries because they failed to clean their retainers. Remember daily dental hygiene is important!
On the other hand, all this can be simplified when using Invisalign. It is a custom treatment with transparent retainers that function as braces too. It is comfortable and do not requires the adjustment at the dentist. The treatment comes with different retainers you have to use according you are advancing. You can get Invisalign at our dental clinics and for less the cost than the US and Canada.
After you are done with the retainers your teeth will look perfect. All the patience and hard work will pay off. Hope you find this article useful and see you next week!