Having bad teeth can affect our confidence and self-esteem, no one can't deny that it is a very important that the way our teeth look affects many areas of our lives. It is important that our smile look good in order to be at peace with ourselves. Unfortunately for some people, they have problems with their teeth. But do not despair, you can solve it with dental veneers.
No wonder one of the most popular dental treatments in Los Algodones is veneers. You can get one to cover a tooth or even form a new smile if you choose to cover the front teeth. For today's topic let's learn a little more about them and why it can be the best dental treatment for you.
Where to get top quality dental veneers?
If you are interested in getting top quality dental veneers but do not want to pay over price, we suggest coming to Los Algodones, Mexico. This apply to any other dental treatment too. We are proud to say that we have helped more than hundreds if not thousands of clients get affordable dental care. You can check our reviews and know other patients' experience traveling to this beautiful town.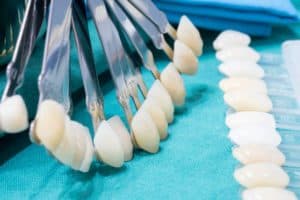 We can guarantee that you can save 50% of the treatment's cost and help you locate the best dentists for your budget and needs. To get a FREE estimate just fill the contact form or call us to the number above at business hours. do not be shy and say hi! Our patient coordinator will be with you every step of the way so you can arrive to your dental clinic easily.
Remember you we also work with any dental treatment, not only veneers. We work with dental implants also in case you need an allon4. Do not be shy and hit us up to schedule an appointment as soon as possible. The end of the year is the busiest time so you do not want to waste time and be left out in the waiting list.
Reasons to get dental veneers in Los Algodones
Dental veneers are one of the most popular dental treatments at the moment in Los Algodones by far as said above. They are an incredibly attractive investment because they can make your smile look good at a low cost. Many patients askus about this wonderful treatment so let's review the top reasons why to get them.
Simple treatment
It consists of a thin mask to cover the tooth usually made from porcelain. This means that it is very easy and quick to get, two things most patients love. They are one of the less invasive procedures to fix a smile. This is important because the dentist does not have to change your teeth radically, like crowns for example.
There are some veneers that you can get as DIY but I honestly cannot recommend those. They are really cheap, yes, but they are made from acrylic.it is a material that I cannot recommend for cosmetic dentistry at all, too many risks involved.
Acrylic veneers are easy to stain and break. It is better to get porcelain veneers at a dentist. If you are looking for excellent prices for dental veneers use our contact form to get a FREE estimate. Remember you can save more than 50% in dental veneers if you use our services.
Dental veneers are durable
As we stated before, porcelain is the best material for dental veneers. The main reason is that the material looks and feel close to the natural teeth. This is godsend because it gives that natural aesthetic most patients are looking for. You can brush it, floss it and rinse it just like natural teeth, this makes them very easy to get and maintain.
It is so durable that it can last about 15 years with a good care of them. Besides it is painless to get as the dentist has to wear down just the front of the teeth, it does not hurt one bit. If you are looking a smile make over, that can last you a long time, we definitively suggest porcelain veneers!
How maintain your dental veneers
Dental hygiene is very important t for your veneers' maintenance if I say so myself. Not taking proper care of them can ruin the treatment and shorten their usage span.  That is why is so important to maintain a good dental hygiene routine despite having false teeth. Besides bad dental hygiene will lead to bad dental health too.
Because all of this I strongly recommend to brush your teeth at least 3 times a day. Use dental floss to get rid of food stuck between your teeth. Rinse with mouthwash at the end and you will maintain your dental veneers in top shape. Using the right tools also help a ton, like using a soft bristle toothbrush and antiseptic mouthwash to keep all the bacteria and germs in check.
 Avoid these habits that ruin dental veneers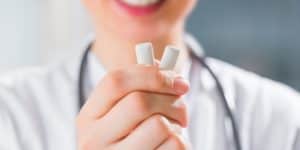 Things like sodas, sugar, alcohol and tobacco as they can stain your crowns. You do not want them to turn yellow and ruin your looks. In case you are wondering you can get whitening just as natural teeth to make them white again. The same advices also apply if you are using dental veneers or dental implants. What is important in here is to keep your teeth clean and neat.
Chewing or biting into hard food is a no go. You are risking chipping your dental veneers or even breaking them. Things like hard candies, bones and ice can make your veneers fall apart. That is why I suggest to always treating your crowns like natural teeth to be really careful with them.
Of course, this will depend on the type and quality of the work. I suggest to look for a good dental clinic with an excellent lab, like the ones You find at Los Algodones Dentists' Guide. Good work will endure the test of time and with proper care can last even a lifetime.