Welcome back to our humble blog, where we discuss dental health. Hope you had a nice New Year and are seeking to improve your teeth's health. The beginning of the year is the best time to start changing your habits to have a better smile. You can add them to your new year resolution so you can put an extra effort to it. Your dental is just as important as you overall health so you should strive to take care of it as you do with the rest of your body.
If you like this article and are interested in learning more on how to improve your teeth, we have good news for you. We have tons of article dedicated to dental treatment and dental hygiene. Our job is to take care of you and recommend the best tips and treatment so you can achieve the smile you deserve. We suggest you to take a look there to improve your lifestyle and dental health.
Leave your comments and suggestions down below. We love to hear from you, learn form you. So, take a little bit of time to let us know what would you like to read here next. Or let us know what other topics would you like us to cover. Also, feel free to ask us any question or request your appointment with the best dentists in Los Algodones. Even if you just leave a hello we will be more than glad to hear from you besides assist you in everything you need.
How to know what to improve from your dental health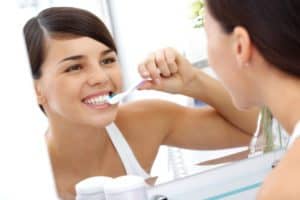 Having a great dental health is easy, but it can be tricky sometimes. We often hear from dentists that you need to brush our teeth twice a day. This is usually the way to go, but the truth is that this is a bare minimum to maintain good health. Depending on your lifestyle, the chances are that you will need to brush your teeth three times a day or more. This goes for coffee maniacs such as myself or smokers, which teeth tends to get stain easier.
Also if you tend to drink lots of soda, candies and junk food, this tip is also for you. Brushing your teeth after every meal or snack will improve your dental health by a lot and avoid stained teeth. The same goes for heavy smokers and alcohol consumers. Both of these habits are bad for your teeth and leveling up your dental hygiene will mitigate some of the damage.
Even so, there are certain habits you must add besides a brushing your teeth one more time a day or avoiding bad drinks or foods. What you do after brushing your teeth will also cause an important impact to your dental health. I am really surprised that most patients stop their dental hygiene routine at just brushing. That is a huge mistake as there are other steps you have to do to finish.
Dental floss, the key to good dental health
Food debris get stuck easily between your teeth, the longer it stays the worse it will damage your teeth. That is why it is so important to add flossing to your dental hygiene routine. A toothbrush cannot reach that narrow spot between your teeth and bacteria and germs will form due to food decomposition. It will slowly cause tooth decay and infect your gums. To avoid this, using dental floss will help you get rid of it.
Do not be like those people that waste yards of dental floss every time the brush and floss their teeth. A couple of inches will be more than enough to clean 3 times a day. Remember to be really careful and avoid rapid movements as you can cut your gums. If you see lots of bloods consider seeing a dentist as soon as possible for evaluation. Bleeding gums can bi a potential sign of gingivitis, be careful with that.
After flossing you should use antiseptic mouthwash to rinse away all bacteria and germs. With this routine our mouth will be clean as hell. 3 times a day as said before will be more than enough to stay healthy. Even so regular checkups and cleaning at the dentist is necessary to avoid other dental diseases. Do not postpose your yearly appointments or your teeth will suffer. The smartest choice you can make is getting these appointment every 6 months to avoid troubles with dental health.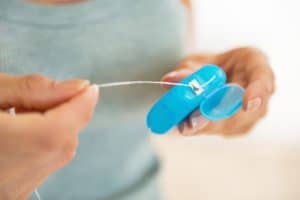 Save money in dentists in Los Algodones
Now, I know some people are visiting this article for the first time and thinking that it is too much money for dental. Luckily for you we are located in Los Algodones, Mexico just 10 miles southwest form Yuma, Arizona. It is incredibly easy to cross the border by walking and find all the dental clinics available for you. That is our specialty, finding the exact dental clinic that will work the best for you based on your budget and preferences.
Among more than 300 dental clinics it is so hard to find the best one for you. It is such a huge ordeal to scroll and research each one. We save you that long period of research with a few clicks for you. Just use the contact form to request your dental treatment, or send SMS or call to the phone number above. We use our database based on previous costumer experience, online reviews, price list and dentists CV to recommend you the best option for you.
Send a message to receive a FREE quote and FREE consultation and evaluation at the clinic. Our patient coordinator will help and assist you every step of the way so you have an easy time coming to Los Algodones. We only work with the top clinics in town, so you will be at very good hands. Also you can request help with accommodations to find the best nearby hotels. If you are interested in saving money in dental, do not doubt to contact us!