Obtaining the best oral hygiene is easier than you may think. Many patients who come to our clinic say they have a difficult time maintaining good habits for good dental hygiene. Today I will make this ten times more easily thanks to a bunch of useful tips that are foolproof. You will get the smile of your dreams in no time if you read this article until the end. Besides, you will learn how to save money in the process, and that is a huge plus.
These tips will get you on track to clean your teeth in and out. You will learn how to take proper care of them on your own and with the help of professional dentist. That is a nonnegotiable requisite to have good teeth. Going to the dentist at least twice a year for regular cleaning is a must that you cannot skip no matter what. That is the first tip, visit your dentist every 6 months.
What I suggest is to plan your appointment so you cannot miss it. Especially if you come to Los Algodones which can be further than your local dentists, but it is worth it. You can save so much money it is insane, we got the best prices available. Below I will show you how to schedule your appointment at our best dental clinics, so stay with us and read until the end.
Dentists guarantee the best oral hygiene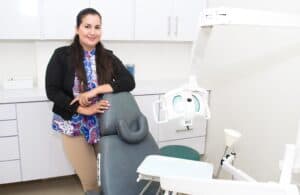 As said above, going to the dentist is really important for the best oral hygiene. They are professional that have the studies, knowledge and tools to clean your teeth the best. That is way as stated before, scheduling an appointment every six months for checkup and cleaning will help you maintain your smile in top form. Apart from this you will dodge many problem and dental diseases such as cavities and gingivitis.
I know many of you reading may think that going that many times to the dentist can be expensive. But it is not if you use our services, we help you find affordable dental treatment in Los Algodones, Mexico. We work with the best clinics and dentists so you and your family can get dental for a cheap price. Our dentists studied abroad and are bilingual, so communication won't be a problem at all and you will feel just like home.
To make an appointment simply use the contact form above or call us to the phone number you see also above. That way you can request a FREE estimate and make your appointment as soon as possible. Our patient coordinator will be more than glad to help you find the best dental clinic for you. We select our clinics based on average reviews, best price, location and dentists' track record. We guarantee only a 5 star services with huge success rate.
So, what are you waiting for? If you are seeking for the best price for dental crowns, dental implants, dentures, fillings, cleaning, whitening and more, request your FREE estimate now! Don't wait until your teeth are wrecked, that will cost you more!
Best oral hygiene at home
Now that you got your appointment at the dentist let's see what you can do at home. First you need to clean your teeth daily and I got the perfect routine for you. It is very simple and easy to follow, only takes a couple of minutes. You do not need to spend more than 5 minutes in the bathroom, it will be effective and quick. You will need only 4 things, a toothbrush, toothpaste, mouthwash and dental floss.
When you buy these products at the store make sure you pick the best. For that you need to pay attention to the ADA seal of approval. What this means is that these are product that are well tested by the American Dentists' Association. It is one of the few ways you can be sure you are buying a god quality product for your oral hygiene. Now let's see what the best routine for brushing your teeth is.
You want to begin with brushing your teeth with slow and gentle strokes. Avoid brushing quickly and aggressive, that will only wear down the enamel and gums, which can cause serious damage like cuts and bleeding. Then you use dental floss to clean between your teeth, food debris tends to get stuck there. To finish things up, rinse with mouthwash to kill the remaining germs and bacteria.
And that is the proper way to carry on a good oral hygiene. You can add other tools like tongue cleaner or interdental brush. Just remember to do it 3 times a day after every meal. Do not skip a single day or your teeth will crumble and you breath will smell awful.
Want to learn more?
Besides a good dental hygiene I suggest to eat well. Do not consume too much sugar and junk food. Sauces and such can seriously ruin your teeth and stain them. So you have to keep them at bay and try to eat healthier. Add fruits and vegetable to your diet to have healthier teeth. Another golden tip is to drink more water during the day to stay well hydrated. Remember our body is what we eat, that includes our teeth.
If you are interested in learning more about dental hygiene and dental health, keep tuned for more articles. We already have tons of entries dedicated to these topics and dental treatment so you are welcome any day to read them. If you could share our content online it would be awesome because we can reach more people.
That is all for today folks, hope you enjoyed. If you learned something or you have any suggestion, leave it down in the comments below. We love to read you guys and learn from you too. Do not forget to stay away from vices like alcohol and cigarettes as they also ruin your teeth. See you next week in the next article, until then, stay fresh.