Hello my dear readers welcome to another post. We receive many emails and questions about dental implants. It is arguably the most popular dental treatment at the moment. Especially since the pandemic, patients want a more permanent solution for teeth loss. There are many option available and points to cover. So today I want to address the most important ones at least so you can be a little more informed about the subject.
I want to start by giving you a quick definition about what are dental implants. They are basically a mechanism formed by a screw drilled in the jawbone, and an abutment that will support a crown or a set of teeth. They have many uses because you can replace a single tooth, a bridge or even a full denture. That is one of the main reasons implants are more popular each day, the offer a permanent teeth replacement.
How to know if you can get dental implants
As mentioned above dental implants are an excellent choice for teeth loss. So in order to get dental implant you have to extract teeth first. It is a treatment that will replace them so it is used when teeth has no salvation. Patients who use dentures and are fed up with them can change their lives for the better. But being an eligible patient for implants is not as simple as it looks.
Being an eligible candidate for the procedure is obviously an important part. Not every patient can get implants from the get go, they must clear some prerequisites first. The first and most important one is having enough bone. The dental implants need enough jawbone to be supported and heal properly. Otherwise, they can fall off and fail easily.
But if the patient does not have enough bone is not the end of the world. You can get a bone graft to fill the jaw. The downside from this is that you have to wait approximately 6 months before coming back to initiate the treatment. The bone is usually form cadavers but there are synthetic options available as well.
Finally, a patient has to be healthy before initiating a procedure like this. What this means is that you have to cure any infection or any problem in the mouth before getting implants. If you suffer for any condition or take meds, consult with your doctor and dentists before scheduling an appointment.
What options are available?
There are many options as we said before. Many treatments can solve different kinds of situations. You can replace a single tooth or several with a bridge. In the last case you will need at least two implants to create the bridge. However the most sought after treatment are the full denture dental implants.
We suggest the All on 4 because it solves all problems at once. It Uses implants to support a full denture. It is the top procedure in technology at the moment, as the denture stays permanently and you cannot remove it. Say good bye to uncomfortable dentures and say hello to new teeth forever.
However, it is not the most affordable solution. Patient in a budget have to save a bit for the all on 4 but there are other recommended options. One of them is the Snap on denture, using only two implants but a removable denture. The removable denture is fixed into the implants but it has to be taken off for maintenance and cleaning.
If you are interested in any of these treatments keep reading until the end to learn how to get them at half the prices.
Listening your dentist
This brings me to my next point, asking your dentist. Dental implants are a procedure that you have to be sure to not mess it up. Although the procedure are easy to get and is fairly simply and quick you need to take proper care of yourself. That is why I suggest to speak to your dentist to solve any doubt regarding the process beforehand.
Follow every recommendation and instruction, especially the healing period. Remember that the timeline for dental implants is that after the implants are set a temporal crown is used for 4 to 8 months. This is because the bone has to heal first to full hold the implant in place. It cannot support any weight or force in the meantime.
That is why it demands excellent care, so when the crown or denture is set it won't fail. Having a good dental hygiene is important for this as well as a special diet. Little by little the patient have to eat lightly until they can eat normally again. The dentist will provide all the information regarding the care for the healing period.
Many patients also ask often if the process is painful. Short answer is no, anesthesia is used during the whole process. Regarding the healing period, the implantologist will prescribe pain medication that will make your life easier. One final tip I can give you is to choose a god implantologist to receive the best work available.
Dental implants can be really expensive but they are totally worth it. The good news is that you can get them at a fair price in Mexico. Below I will teach you how to find the best dentists for your case using our services.
Where to get affordable dental implants in Los Algodones, Mexico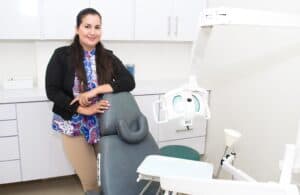 Now that you know how dental implants works, I hope you feel more confidence towards the treatment. If you are interested in getting top quality implants like de All on 4 at half the price compared to the US I suggest Los Algodones, Mexico. I can guarantee we can beat any price in the market-
Find the best dentists in Los Algodones using our contact form. We will send you a FREE estimate to you email. We work with dentists trained in the US, and clinic that only follows ADA standards. You will receive the same quality as the States but at half the price! Start saving money in dental, change your life and get a new smile now!