Hi guys, today's topic will be pretty useful and special. We are going to give you some tips on how to plan your trip to Los Algodones Mexico. Now that you may have or are planning to schedule an appointment with a dentist, you have to plan this trip. Especially during these times with the pandemic  going on, maby patients are ready to cross the border to get dental.
First, if you need a dentist, use our contact form. We will reply with the prices and then you can request your appointment with us. Our services are FREE of charge and you will find the best dental clinic in town.
The trip to Los Algodones
Our top recommendation is to drive to the border in Yuma, Arizona and cross walking. This is pretty easy and you do not need many documents. You can use your passport, citizen ID, driver's license or birth certificate. At the time of this article, the border closes at 2 pm, so make sure to come back before that if you wish to stay on the US side. We will talk about accommodations later on.
You can leave your car parked in the parking lot, it is safe and cheap. Crossing the broder take mere minutes and after you made it to the Mexican side, you will bi in the art of town. I hope you find Los Algodones picturesque and fun.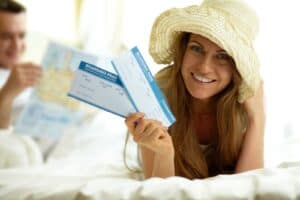 Where to spend the night
Depends on your preference. Right now, because of prices and the border closing early I suggest Los Algodones. You will find nice hotel like Hotel California, but you have many choices available. There are many restaurants souvenirs and sightseeing so you definitively won't be bored. If you want to stay in Yuma it is fine too, it cost more but it has the home advantage, sorta speak.