Best habits for dental health you cannot miss
Hello dear readers welcome back to our awesome dental blog. Today I want to teach you the best habits that are doing well for your dental hygiene. You must do them every day no matter what, do not quit as it is really easy to follow. A good dental hygiene is made from constancy and discipline. Luckily for you, this is really easy to achieve. Let's talk today about how to achieve that to get the perfect smile we all desire.
I want to tell you guys that we have more articles dedicated to dental. All you need to know about dental treatment and dental hygiene in this very same place. We have articles dedicated to patients that wants to save money in dental and find the best dentists in Los Algdones. You can also leave a comment and suggestion down below to let us know what you would like to learn next.
We often point out here the best and worst habits. But there are some habits that are very common among our patients. I want to dedicate this article to encourage you to keep doing those habits that do great things for your dental health. So keep doing them and keep smiling because you are on the right track.
Best habits for your dental hygiene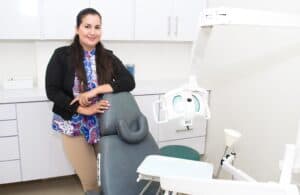 Going to the dentist improves your dental health
This is an underrated habit most patients do not do, even if it is the best one. If you go to the dentist at least once a year, your teeth must be looking perfect. Dentist are a must for your dental health, you need regular checkup and cleaning to keep them neat and clean. This is the best way to avoid diseases and keep everything neat. Not doing it is a huge mistake because you cannot clean every area at home.
I recommend getting cleaning twice a year with our dentist. This is the perfect time to get whitening if your teeth are stained. If you need any dental treatment it is a good time to schedule your appointment here. It is a good time to let you know that you can get all dental treatment for 50% less than the United State at our dental clinics in Los Algodones Mexico.
One common excuse I hear from our readers and patients is that going to the dentist is too expensive. That is true, but here you can save your hard-earned money and get the same quality of dental treatment. We are ADA approved so you will be in good hands. Besides making an appointment is really easy, you can call us or write us. Either way is perfectly fine.
If you would like to be seen by the best dentists in Mexico use the contact form to schedule your appointment. Or you can call us in business hours, our patient coordinator will address all your questions and help you every step of the way. The process is really quick and simple. Is the perfect place to start with the best habits for improving your dental health.
Our facilities are also up to date. You can receive dental treatment with the most recent and modern techniques. One example is the Allon4 for dental implants. State of the art dental procedure that can give the patient a new denture supported by implants, half the price than the US.
Cleaning your teeth
Next big thing in the list is brushing your teeth. If you are brushing your teeth at least twice a day you are doing things the right way. Many patients only brush once a day and others do not brush their teeth at all. This is dangerous because it creates bad habits and bad hygiene. If you wish to conserve all your teeth forever you have to take good care of them. The first step is to brush them every day.
To brush your teeth correctly you have to use a soft bristle tooth brush. Remember to be very gentle and use slow strokes to avoid any damage to your gums and tooth enamel. You need to understand that brushing your tongue, cheeks and gums are also important to brush. You want to clean every area of the mouth and leave it spotless. Also, you can improve your best habits by using an electric toothbrush.
After brushing use dental floss to get rid of food debris stuck between your teeth. The food debris will rot and infect your teeth and gums if you leave it there. This is one common cause of bad breath and other problems like gingivitis. To avoid this use floss or an interdental brush to clean this hard-to-reach place. After you are done you have to use mouthwash to rinse.
Doing this 3 times a day will make your teeth as clean as they deserve it. remember that cleaning them from bacteria and germs and not leaving them any room for growth is what avoid most problems. That is why cleaning your bathroom if you leave your toothbrush there can help a ton to avoid any dental disease too.
Bests habits includes dirnking water
Staying hydrated is one of the best habits for your dental health. Many patients fail to understand that a dry mouth can bring many problems to the table. It can affect your teeth, breath, tongue, gums and more. Triying to stay healthy by drinking at least 8 glasses of water daily is very good for your teeth. Avoid drinking soft drinks like sodas and such. They contain too many chemicals and sugar. The truth is that nothing can beat a good old glass of water.
If you wish to drink something flavored opt for natural juices. Do not fall into the flavored water trap, it contains too many chemicals. Natural fruits and veggies have all the vitamins and nutrients you need. You can drink coffee and all that, but be moderate and do not abuse. The key here is equilibrium so your teeth can look amazing and you can enjoy the simple things in life.