Hello my dear readers, today I want to teach you when to choose bridge over crown. This is a question I get a lot online form you, guys. It certainly a very interesting and important question because it can help you save money. And you know that here we care about helping you find affordable dental treatment. That is why we dedicate hours to feed this blog with useful information that can help you save cost in dental.
If you indeed have interest in learning more about this kind of topics about dental health, check us about. We update the blog every week so you have your weekly info about dental. And if you find the information useful, funny and entertaining, please share it online so we can get to more people and help them fix their smile. You can help us grow to reach more people and we can help you save money getting affordable dental treatment in Los Algodones, Mexico.
When to pick dental bridge over crown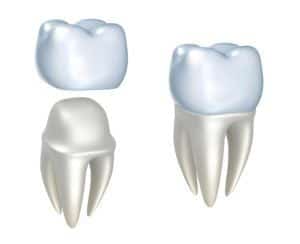 Now with today's subject let's see when choose which treatment. Both of them are really good but they have a time and place. Luckily, they are very easy to spot so it won't be a difficult decision in the end. The first thing you have to take in mind is what do you need exactly, do you need to fix a chipped tooth, or need teeth replacement? Bothe are different kind of situations so you have to know what do you need in the first place.
This is not a decision you have to make alone, your dentist have to help you. Here at Los Algodones Dentists' Guide have FREE evaluation and consultation. To make an appointment simply use the contact form or the phone number above. Our patient coordinator will be more than glad to assist you in the process. Later I will tell you about more perks you can gain from using our services, which are FREE of cost by the way. So stay tune for more.
Along with your dentist you have take a plan of action but basically you need to take the better option for your case. If the teeth needed for fix are separated then a crown will be better. The same goes if the crack or cavity to cover its considerably big. If it is small or superficial, then a veneer or a filling will do the job. On the other hand, if the teeth are together, then a bridge will be better, it will save money, time and make your smile look better.
How to choose your bridge or crown
If you always have a hard time choosing your dental crown or bridge here is crash course about it. You have to pay attention to the material for your crown or bridge. This is a really important decision because it will affect how many times it can last in your life. Some patient like budget over quality, other like a life lasting piece. It will depend on both your preference and budget, remember always consult with your dentist about what it is the best for you!
For starters you porcelain fused with metal, this material is a fusion that save cost and looks amazing. This is a budget option for patients that do not have enough money for full porcelain. However, I recommend this option for the back teeth as the metallic underline can be easily be seen. For that reason, I do not suggest it for bridges in the front teeth. You will be better opting for full porcelain, which is by far the best option.
For those of you that want the best of the best there is zirconia. This material is really resilient so it can last a long time. It looks really pretty too, many celebrities choose this premium material for their crowns and bridge. What I suggest is going for porcelain and ceramic if you want a good piece, but go for zirconia if it is in your budget. Remember you can save 50% of the US and Canada costs in dental with us in Los Algodones, Mexico.
How to take care of your crowns and bridges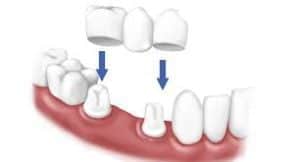 Just like natural teeth you must clean them daily. Brush your teeth at least 3 times a day. Do not forget to use dental floss and mouthwash to rinse. Porcelain can crack and get discolored too, so do not sleep on your dental hygiene. You have to avoid biting into hard stuff and chewing, also grinding your teeth together as it can damage your crowns too.
Another important step I forgot to mention is that your piece has to fit perfectly. For that is important the impression is taken precisely so they can fit right. Too lose and it will fall and to tight and it will make your feel uncomfortable. These points are important that you discuss it with your dentists so the result is satisfactory. Things that you do not have to worry if you use our services at Los Algodones Dentists' Guide.
About teeth replacement
One thing I want to also tell you guys is about teeth replacement. There are many patients that wish to replace most of their teeth with crowns and/or bridges. This is a bad idea, I know you want to save money but they do not offer enough support for a full denture. You can replace teeth here and there but not all of them. For that job you will be better with a denture per se or full dental implants.
If you are interested in those, especially the all on 4 dental implant treatment, contact us. We will link you to the best dental clinic in town with the best dentists available. We work closely with the best implantologist in town so you will be in good hands. We also pay close attention to their prices so you save money in the process. That is all for today, hope you learned a thing or two, see you next week in the next article!