Hello guys, today let's talk about children and dental hygiene. Sometimes it can be difficult for them to learn about how to take care of their teeth, but it is an important skill to learn at such young age. That is why I bring yu today some tricks to help them learn how to brush their teeth and have a constant dental hygine. I know it can be a hard task, as a parent myself, it cost me to have my children to brush their teeth at the biggining. So this article should help you avoid the same mistakes I did.
If you like to learn about dental hygiene and dental treatment I invite you to read the rest of our blog. we have tons of articles dedicated to these topics so our readers learn about how to take care of their teeth. Besides you can learn about our awesome promotions to save money in dental treatment at Los Algodones, Mexico read our blog. We are Los Algodones Dentists' Guide and we would love to help you get the smile you deserve. You can read our reviews and see previous patients' testimonies so you see our work. you can also see the Price List above to see some of the prices in town, you can ask for better deals to our patient coordinator.
Be an example for your childrendental hygiene
the first advice I can give you is to be an example for your children. If they do not see you brushing your teeth 3 times a day, cahcnes are they won't do it too. Children learn by repetition so seeing an adult doing things is good motivation for them. Especially if they have older siblings as they really like to imitate them, mines were really close to each others so they spent most time together. It also serve as quality time, I loved brushing my teeth side by side to my children talking and laughing. this is also a great moment to teach them about how to brush their teeth and correct them.
Remember to have patient as it can be difficult for them at first. Eplain it calmly make it look like a game rather than a job, it will create the perfect enviroment for them to enjoy it and learn properly. One thing to make sure is that they know how to use a toothbrush and taht they have to brush their teeth daily, after every meal at least. as for brushing techniques, they can start aapplying vertical motions and complete with horizontal afterwards. Depending on their age they can start using dental floss  but one thing they cannot miss is mouthwash.
It can be funs too and not a chore
While we are at tit, you can make it a fun game so your kids love to take care of their teeth. There are tons of songs in Youtube that work like charm so they have fun singin and practicing along. It makes everything so much easier, you can also shoose apps which are a modern approach to this. Pokemon has one app for bruhsing teeth that mychildren used to love when they were learning. as I said before it is really important that they have fun and do not see it as a boring chore.
You can also add rewards for certain goals as brushing their teeth every day for a week or a month. Installing a rewards system can be really useful, like taking them on a fun trip or preparing their favourite meal. Although you want to be careful with your promises as you could spoil them. Is a double edge sword but it is an effective one, just try to not give them too much suar and junk food as they can reuin all their hard work.
children love to be included
One cool advice I heard from a teacher in college is to involve kids in the process of dental hygiene. What I mean by this is that next time you go for toothpaste, toothbrush and such, you take your kids so they can pick what they want. You will be surprised about their choice and options available, it can be theyr favorite color or ta character from their favorite cartoon. Nowadays there are lots of options available so there will be somthing for them no matter their taste.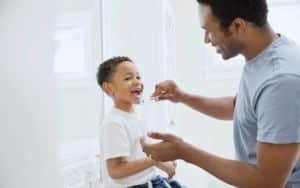 This is so cool for them because they feel like they are making their own choices and participating actively. This serves as a motivation so they want to use what they chose, it will certainly result in more burshing and dental hygiene habits that will stay with them all their life. It made feel like a prod parent when one morning I saw then pttuing toothpaste in their toothbrush and scrubbing away on their own. That is why I always suggest to parents to make dental hygiene somthing fun for their kids and that they involve them as much as possible. It will create bonds and so many happy memories as said before.
Children can trust their dentist
Another important topic to discuss is the yearly visit to the denitst. This is hard for childrem because they usually tend to fear dentists at first. To make the visits enjoyable as soon as possible you have to tell them about them bforehand, like months before their first visit. So they do not fear them, another important tip is that you can take them with you to your appointment  if your dentist do not have any proble. This will make them familiar with the enviroment and noises, which can be scary at first, the rest your dentist will take care of it.
It is really important to take them to the dentist as soon as possible so their teeth grow healthy and beautiful. If you are interested in saving money in dental for all the family make your appointment with to the best clinics Los Algodones, Mexico. Our prices are 50% below the cost in the US and Canada, besides with billingual friendly staff with modern facilities. To make an appointmetn simply use the phone number above or the contact form. We will be more than glad to help you, bye!