Dental crowns has become one of the top choices for patient to change the way their teeth look. It can become a savior for repairing them or just an aesthetic fix. Their value has gone up because they are easy to get. Here in Los Algodones, they have become one of the most requested treatments along dental implants. That is why today I want to share some insights on how to choose the best dental crowns for you!
Where to get the best dental crowns
First you have to decide a place to go. We suggest a dental clinic with good prices and reputation, the best of both worlds. They have to deliver good crowns at affordable prices. If you wish to find such place, just use our form at our homepage to get a FREE quote on your email. We work with the best dentists in town and our services are FREE as well.
Choose the right material
The most important thing is to go for the best material according to your budget. Right of the bat zirconia is the best one, is the toughest and looks better. Next we have full porcelain because it looks and feel just like natural teeth. The less recommended choice is metal fused with porcelain crowns, it has a metallic lining underneath that will give away the fact that you have a crown.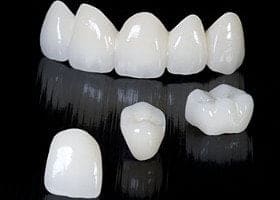 This is important because you want your teeth to look perfect. Porcelain fused with metal is okay for the back teeth. But for the front you have to go for full porcelain at least.
Other options besides dental crowns
Take in mind that you can improve your look with other options like veneers. The procedure is less intrusive than crowns. But keep in mind that they do not repair heavy damage. If your teeth are in a bad state we suggest going for dental implants instead.